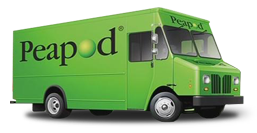 How Peapod Works
You Shop
At home, work or on your phone. 24/7. Browse our aisles and fill your cart with all the brands you love.
You Schedule
Choose a time that best fits your schedule, next day or two weeks out. We are always in your neighborhood.
We Deliver
Our friendly drivers bring the groceries right to your door! Quick pick-up service is available in some areas too.